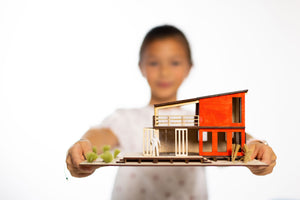 What fellow builders are saying
Don't take our word for it, take theirs. Just take a look at some of our latest reviews from our future architects.
★★★★★

This summer I was looking for something new and fun for our son Noah to do as an in-home project and ArchiCamp did not disappoint. It was so enjoyable for him and me to see as he was able to build something with his own hands. The kit was well laid out and the instructions were easy enough for him to follow along. Noah loved this kit which also involved the outdoor and environmental aspects of architecture. We cannot wait for the next project. Thank you Stix+Brix.

Bianca C.
★★★★★

As a working mom, who is at home with kids, I was desperate to find a way to entertain them without relying on electronics. I have to say- archicamp was the perfect solution!! My children have loved spending time building the model. The kit was easy for them to use on their own. This was such a blessing since it gave me uninterrupted time to work! Couldn't be happier with this product and the kids are looking forward to building future models.

Jasmin C.
★★★★★

I love Stix and Brix! My boys and I have built several of their models. Recently, we attended anevent and my 5 year old built the Spooky House all on his own. He was so proud of himself andhad so much fun!

Julie M.
★★★★★

My eight-year-old is video-game obsessed, and I'm always on the lookout for activities that are not screen-based but also enjoyable for both him and his younger sister. We found everything we wanted in Stix + Brix. Every box they have completed is age-appropriate and easy for them to follow on their own. And they can get as creative as they want with the personalized accents. Both of my kids really enjoy the kits, and I'm happy because it's one activity they are willing todo together without a screen.

Jennifer R.
★★★★★

We tend to have a lot of weather-related school closure days, and I try to keep a set of activities ready for any day we can't go outside. Hurray for Stix + Brix! When I pull out one of the kits, the kids stay busy and occupied for hours. Better still, they can manage the project independently, and they have such pride after creating their new architectural builds. If they can't go to school, I appreciate the educational foundation in building these models. They are fun too!

Jeff L.
★★★★★

My son started with the first model and LOVED it. He was so excited to build it all himself and display it proudly in his room. He has asked for each new model as it comes out and says each one is better than the next. The kits are kid friendly, yet also challenging to keep them engaged everystep of the building process. Thanks to Stix and Brix my son has a new found interest in architectureand design. Cannot say enough great things about this company.

Lauren M.
★★★★★

"Mom thanks so much today was so much fun!", stated my 10 year old daughter when she finished her Stix+ Brix cabin! I was looking for a hands on activity to get my daughter's creative side out and Stix+ Brix not only brought it out of her but inspired to want more. I highly recommend this product, not only as a parent but also as an educator. Let's keep those creative minds flowing!

Andrea L.
★★★★★

What a hands-on experience not to miss! We watched our daughter create a masterpiece, and she was so proud to build something of her own.

Michelle S.